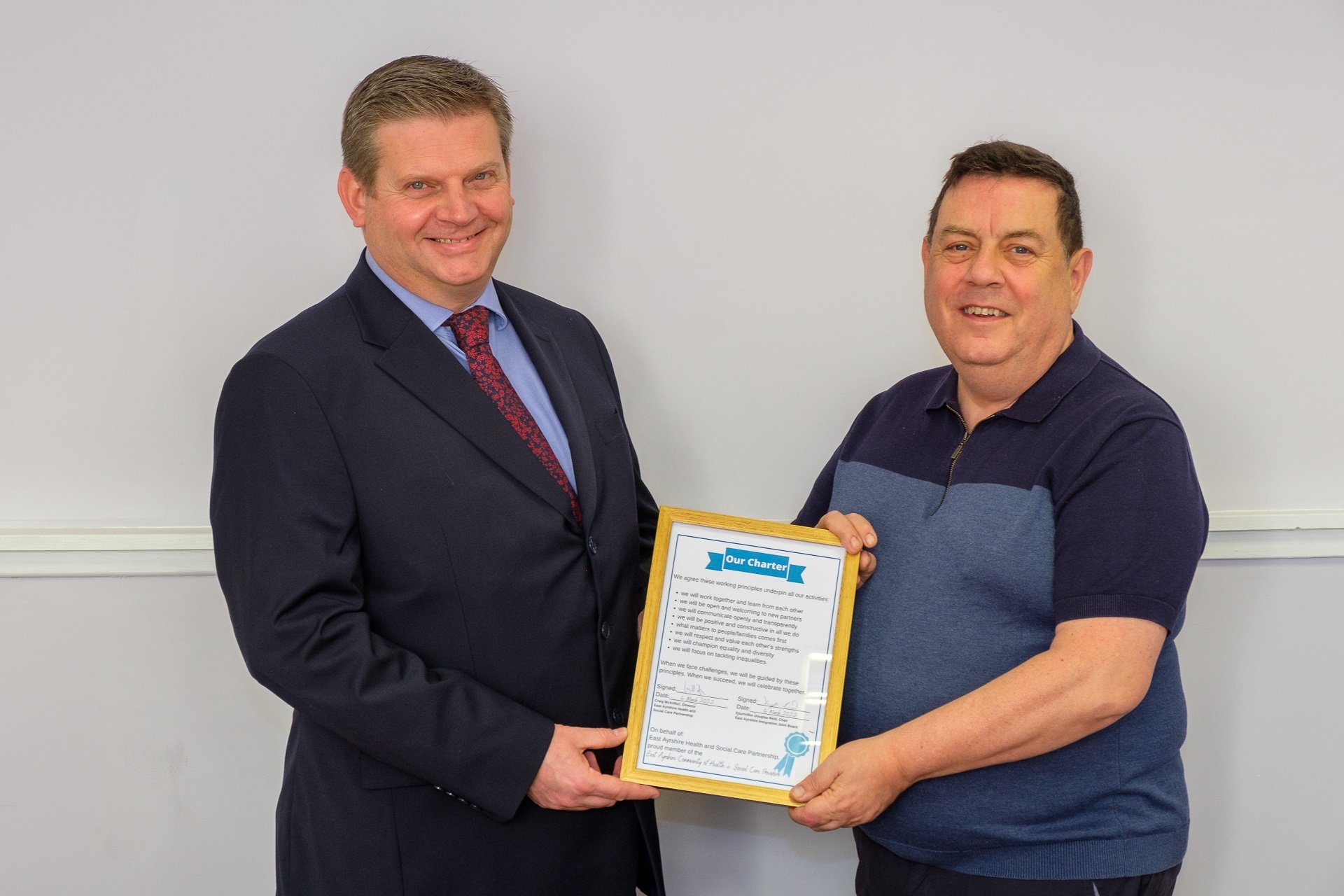 Local health and wellbeing organisations co-produce new Partnership Working Charter
04.03.2022
East Ayrshire Health and Social Care Partnership (EAHSCP) has signed a new charter that will support close working relationships between service providers across the area.
Launching its new Partnership Provider Statement (PDF 1.6Mb), a document co-written with local partner organisations, EAHSCP has signed up to principles set out in its accompanying charter that will benefit residents and communities through strong partnership working.
The Partnership Provider Statement has been created for groups and organisations that are delivering health and social care services in East Ayrshire, or would like to provide services. Organisations who are currently providing services co-produced the statement to guide collaborative working in the area.
Craig McArthur, Director of EAHSCP, explains further: "By bringing together our partners who are delivering services, we've been able to examine and celebrate what has been working well for East Ayrshire and our communities. Collectively, we have also identified opportunities where we can do more to improve health and wellbeing.
"This joint approach has allowed us to describe what we all believe in as a community of service providers. We absolutely believe in the power of working together, and we are committed to demonstrating the principles set out in the charter."
Councillor Douglas Reid, Chair of the East Ayrshire Integration Joint Board, added: "Partnership working has been vital to the delivery of health and wellbeing benefits for our residents. It is very encouraging to see this celebrated through our Partnership Provider Statement, recognising the collective achievements of our service providers.
"Together we are developing a nurturing environment for positive working relationships in East Ayrshire. Not only does this support our existing community of service providers, but it will welcome new partners working in our communities for the first time."
Partner organisations and groups now have the opportunity to pledge their commitment to the charter, which sets out the working principles for East Ayrshire's current and future community of health and social care providers.