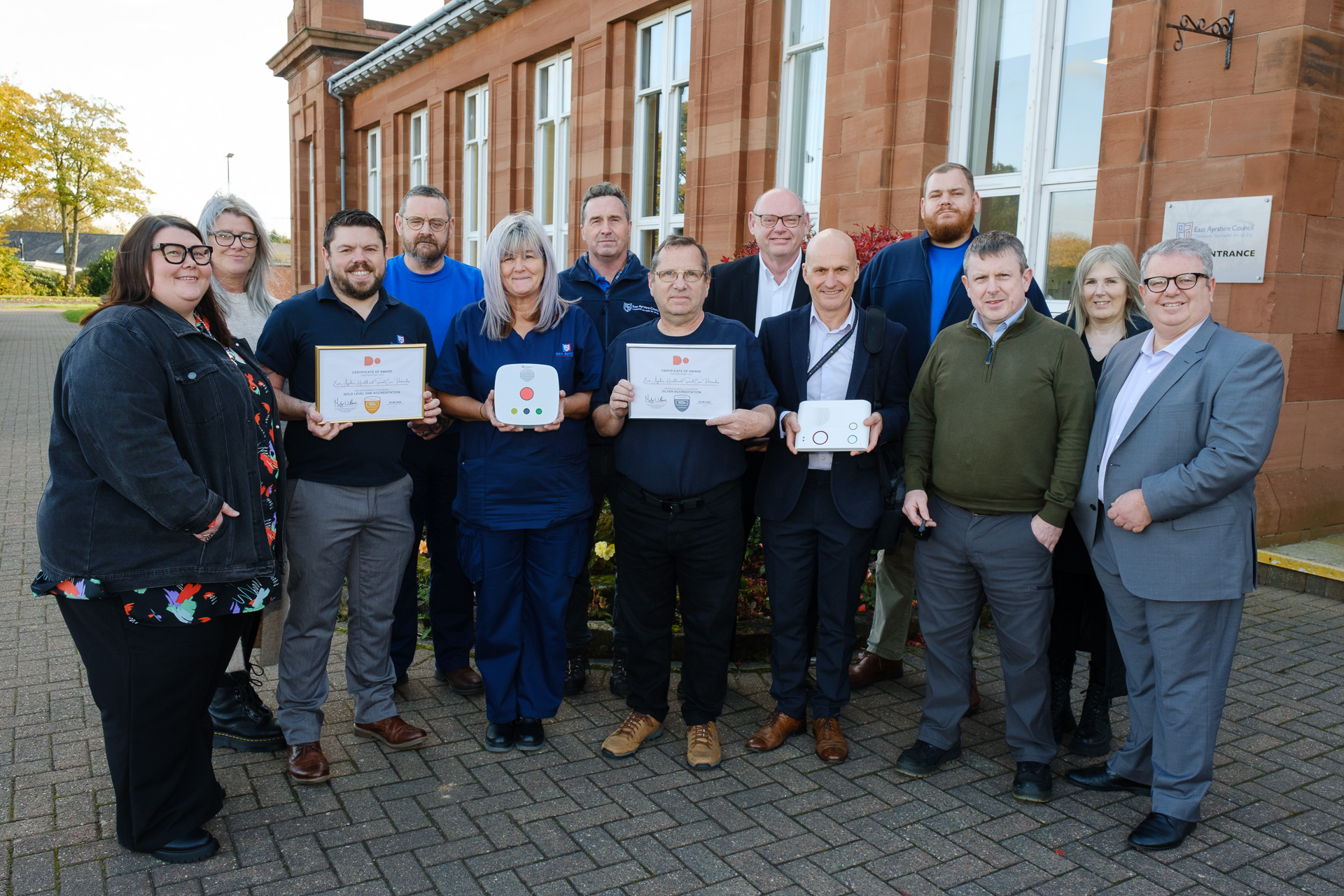 Analogue to Digital Team strikes gold with award
03.11.2023
Congratulations are in order for our Analogue to Digital Team, who were awarded the Gold One Digital Telecare Implementation Award by Digital Telecare for Scottish Local Government.
This is a fantastic achievement and comes after much dedication and planning from staff to continue our roll-out of a digital telecare service across East Ayrshire.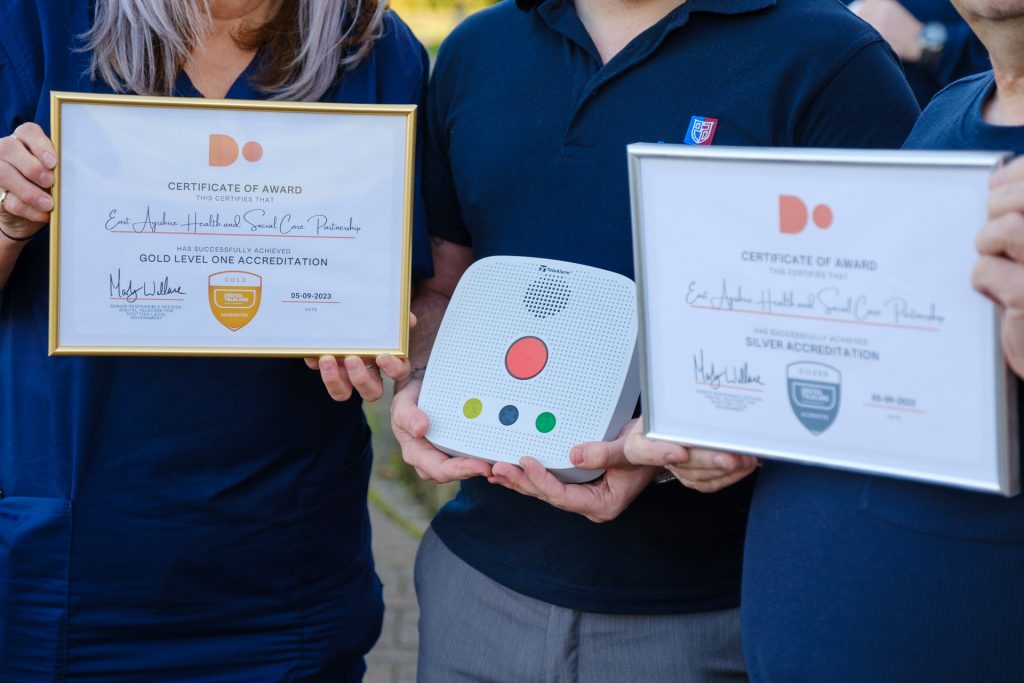 To achieve Gold Level One status, a Telecare Service Provider must have completed robust testing of their end-to-end digital telecare solution, resolving any issues uncovered, and have a detailed deployment plan and all required contracts and resources in place for the roll-out of digital telecare.
We have now delivered a live digital telecare solution to 20% of all community alarm users in East Ayrshire, successfully completing their transition from analogue to digital equipment. As a result, over 1,200 members of the community are now supported digitally.
To continue this achievement, our Analogue to Digital Team aims to increase the analogue to digital transition of community alarms to 50% and to have a digital telecare solution in place for over half of sheltered housing and supported accommodation in East Ayrshire.
Chrys Howe, Analogue to Digital Coordinator, told us more:
"It is great to have our hard work and progress recognised by the Digital Office, and we welcome the Silver and Gold Implementation awards. It has been a real team effort to get to this position.
With our progress East Ayrshire now has digital community alarm unit solutions and a digital call handling centre in place. This ensures that those who need a little extra support living in our communities can continue to receive a telecare service as the UK continues to transition from analogue to digital."
Erik Sutherland, Head of Locality Health and Care Services and Chair of the Analogue to Digital Board in East Ayrshire, spoke of the future of digital telecare and its crucial role in helping people to live independently:
"People, compassion and partnership underpin the way we do things in East Ayrshire. Advancing to the silver and gold award status demonstrates our Analogue to Digital team's commitment to working collaboratively so that we can support our residents to live independently at home.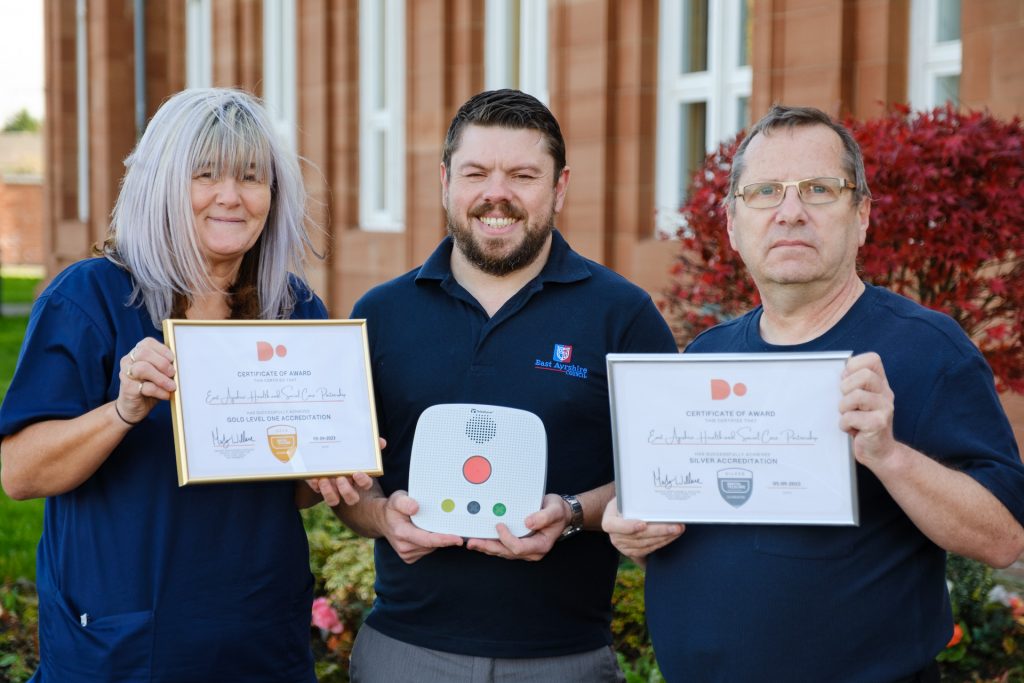 Technology enabled care presents innovative opportunities to provide care and support to our communities. The team's continuing journey to upgrade our provision from analogue to digital is very exciting as we see more and more benefits delivered to people in East Ayrshire. We are very proud of our team's achievements so far and welcome this encouraging recognition from the Digital Office."
We will continue to work with Digital Telecare as we progress towards the Gold Two Digital Telecare Implementation Award.
Well done to everyone on our Analogue to Digital Team for this well-deserved recognition and for continuing to bring the benefits of digital telecare to our service users.
The future certainly looks golden for digital telecare in East Ayrshire!