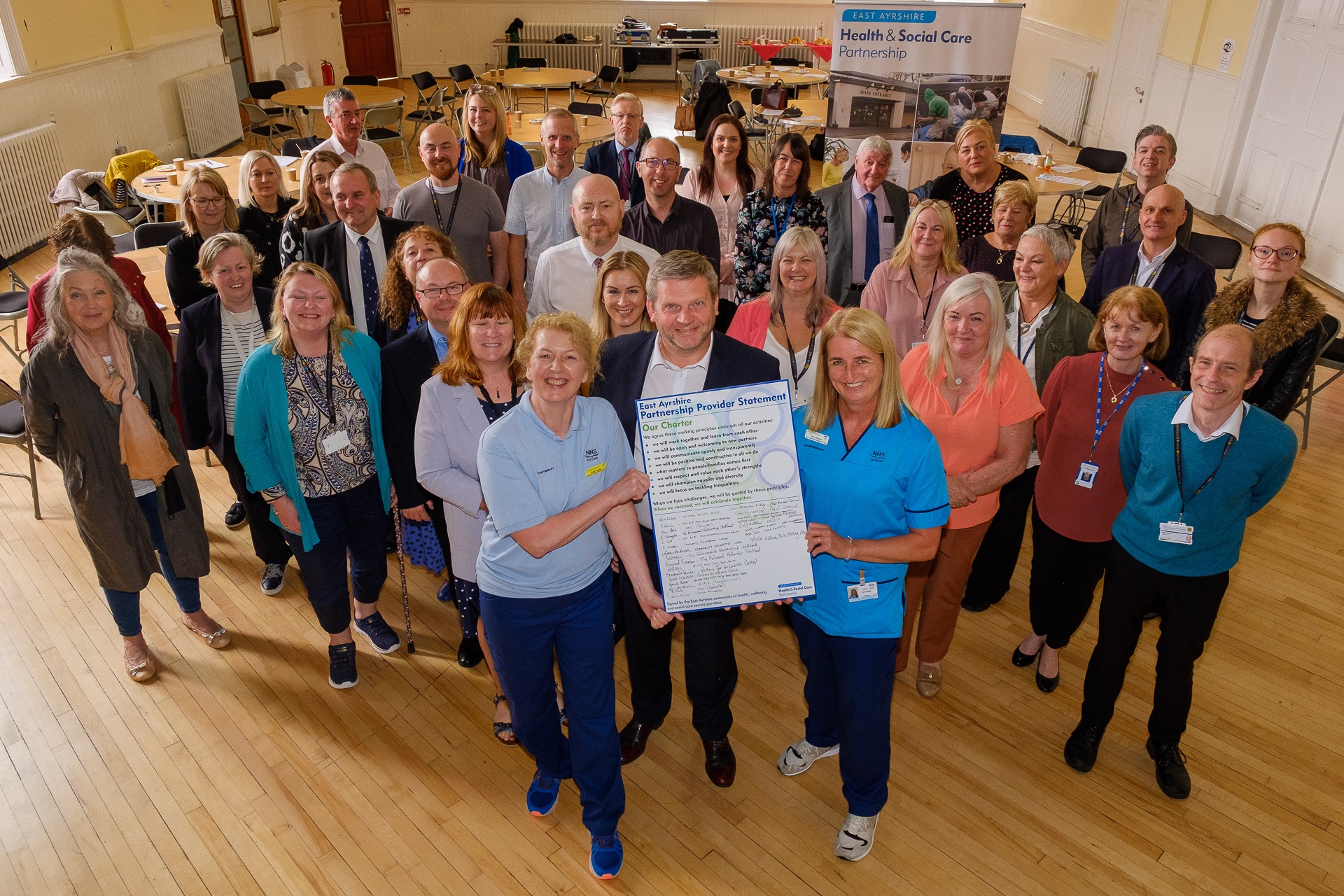 Bids open for funding to support health and wellbeing
30.06.2022
Local organisations and groups are being encouraged to submit their health and wellbeing projects to a public vote for a chance to receive funding.
East Ayrshire Health and Social Care Partnership (EAHSCP) has launched its participatory budgeting process, Wellbeing for All, with a total of £250k funding available to community organisations providing health and social care services in East Ayrshire.
The participatory budgeting process involves communities by asking them to choose which projects they would like to see receive a share of the funding. Local events will take place in August, where residents can find out more about the proposed projects and vote for their favourite.
The fund was opened to applicants  on Thursday 30 June, at an event where local service providers came together to sign a new charter on partnership working.
Craig McArthur, Director of EAHSCP, said the charter signing reaffirms a shared goal of working collaboratively to support the wellbeing of people in East Ayrshire:
"We are really pleased to be able to come together today as a community of service providers focussed on improving and supporting health and wellbeing in East Ayrshire. The charter we are signing today was co-produced by local organisations already providing services, reflecting our shared vision for working well together.
"The participatory budgeting mechanism will also allow the community to join us by deciding where resources should be shared. I am really looking forward to finding out which projects are successful and the benefits they will bring to people in East Ayrshire."
Councillor Douglas Reid, Chair of the East Ayrshire Integration Joint Board, emphasised the importance of having the people of East Ayrshire at the forefront of decisions made in their community:
"Participatory budgeting places decision making in the hands of our communities, allowing them to pick out their priority areas so we can support what really matters.
"East Ayrshire has an incredibly positive network of service providers, and I am continually impressed by everything they achieve. I would encourage organisations and groups from all aspects of health and social care to put their projects forward to give our communities as wide a choice as possible."
The participatory budgeting process is now open for applications, and the deadline for submissions is 9 August 2022. To find out more, visit East Ayrshire Health and Social Care: Wellbeing for All Participatory Budgeting.